5-DAYS
OFF THE BEATEN PATH
OFF THE BEATEN PATH 5-days tour  
This 5-days tour off the beaten path offers a unique and personal experience of the impressive nature elements that shape life and living in Iceland.
We start with the geothermal forces; lunar landscapes and boiling mud pools, but also Hellisheiði geothermal power plant and Þingvellir national park. The tour goes on to the area of Borgarfjörður with scenic mountains, valleys and waterfalls and a view to the glaciers in the highlands. We meet Icelandic farmers who are closely connected with the rhythm of nature and tell us all about life on a farm. The last part of the tour takes us to remote area of Westfjords. The area is rich in birdlife and offers magnificent scenery. Going back to Reykjavík we stop by breathtaking Dynjandi waterfall before taking the ferry across Breiðafjörður Bay to picturesque Stykkishólmur village.
Available tour dates:
August 14th 2017
September 4th 2017
Booking must be done 6 weeks before tour start
Group size: 10 – 20 persons
---
Included
Three nights in hotels/guesthouses, in double rooms with a private bathroom. Breakfast included. Additional costs for staying in a single room ISK 23.000
Two 3-course dinners
Bus tour of five days with a local guide
Visit to Hellisheiðarvirkjun geothermal power plant
Visit to Háafell goat farm
Visit to Erpsstaðir dairy farm
Visit to Arctic Fox Centre
Ferry ride across Breiðafjörður bay
Not included
Flight to and from Iceland
Accommodation in Reykjavík. There is a variety of hotels and guesthouses in Reykjavík. We leave it to you to find the one that suits your needs.
Lunch
Dinner in Ísafjörður
BOOK HERE: 5-DAYS OFF THE BEATEN PATH
Loading...
*Please note that the Sea kayak trip and Boat trip to Bird Island are mutually exclusive, as they take place at the same time.
Based on daily exchange rate
1,000 ISK is approximately 7.18 USD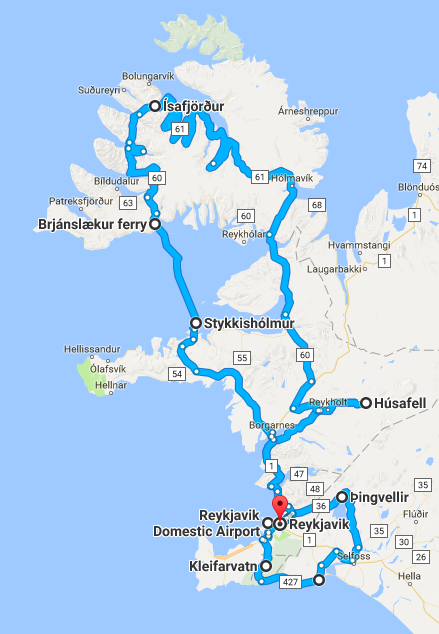 Here is what a happy customer has to say about a tour with Crisscross:
Very local, relaxing and a nice alternative to the regular bus tours in Iceland! I had an amazing time! From the variety of local foods we tasted to the places we visited, not a single thing went wrong. The attention to detail on this tour was superb. The guide was very friendly and informative of the Icelandic culture. I highly recommend this tour for people that are looking for a relaxed tour, beautiful scenery and great local food!
Klara G,  Tripadvior
ITINERARY - What we do, day by day
HIGHLIGHTS DAY 1:
Reykjanes Geopark, Kleifarvatn, Krýsuvík geothermal area, Hellisheiði Power Plant, Þingvellir.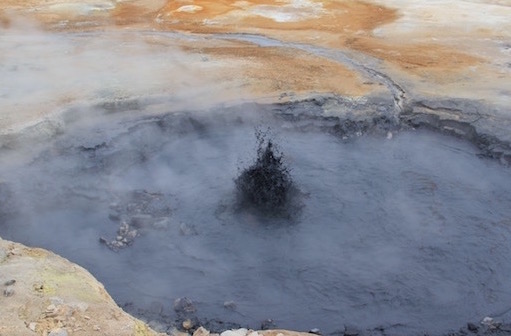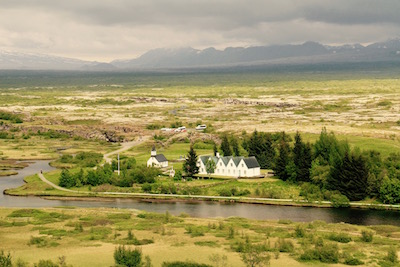 DAY 1:  GEOTHERMAL WONDERS
Please note: We start the activity on the first day at 10.30 a.m. so it is possible to arrive early that same morning from the US!
We begin by visiting the geological wonders of Reykjanes peninsula within the UNESCO Global Geopark. Driving through this area makes you think more of lunar landscape than anything else. Here we find endless lava fields, craters and amazing hot springs. The tour takes us to the panoramic view of lake Kleifarvatn and the geothermal area of Krýsuvík with its boiling mud and steam vents.
We continue along the south coast with its fishing villages and head to the Geothermal Energy Exhibition at Hellisheiði Power Plant, where we explore how geothermal power in Iceland is being utilized for heating and electricity.
In the afternoon we stop at Þingvellir National Park and UNESCO World Heritage Site. At Þingvellir the Vikings established open-air assembly as early as the year 930. It is a place of unique geology and natural features, where the continental drift of the Eurasian and North-American tectonic earth plates can be clearly grasped in the many faults that cross the region.
We return to your accommodation in Reykjavik.
DAY 2: STUNNING CONTRASTS
We leave Reykjavik in the morning and travel through the beautiful Borgarfjörður area, rich in valleys, lakes and rivers, surrounded by rugged scenery of lava and waterfalls. The mountains of the district are highly scenic and varied, with glaciers forming a majestic backdrop on the rim of the highlands. Borgarfjörður includes some of the best salmon rivers in Iceland, but is also the home of Deildartunguhver, the most powerful hot spring of Europe, pumping out 180 liters (about 50 US gallons) of boiling water every second. Enough to fill a 25 meter swimming pool in one hour!
At the end of the morning we visit the unique and picturesque waterfalls Hraunfossar (Lava Waterfalls) that flow from underneath the edge of a lava field into the glacial river Hvítá (White River) and Barnafossar (Children´s Waterfall).
In the afternoon you can join a 2 – 3 hours optional tour called Into The Glacier, where you get the opportunity of a lifetime to enjoy Iceland's second largest glacier, Langjökull Glacier – from the inside! In this tour you get to drive in a specially modified vehicle on the glacier, explore the glacier environment, and experience its beauty from the inside.
We stay in a hotel in the Borgarfjörður area, including dinner and breakfast
Optional: Into the Glacier Tour
ISK 19.500 
HIGHLIGHTS DAY 2:
Deildartunguhver, Hraunfossar, Langjökull Glacier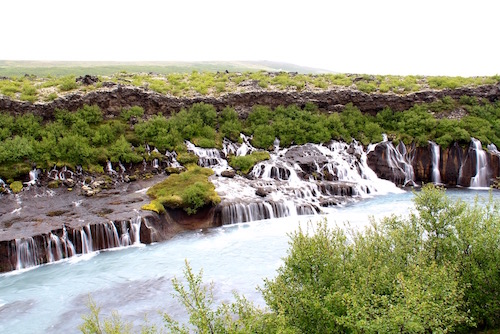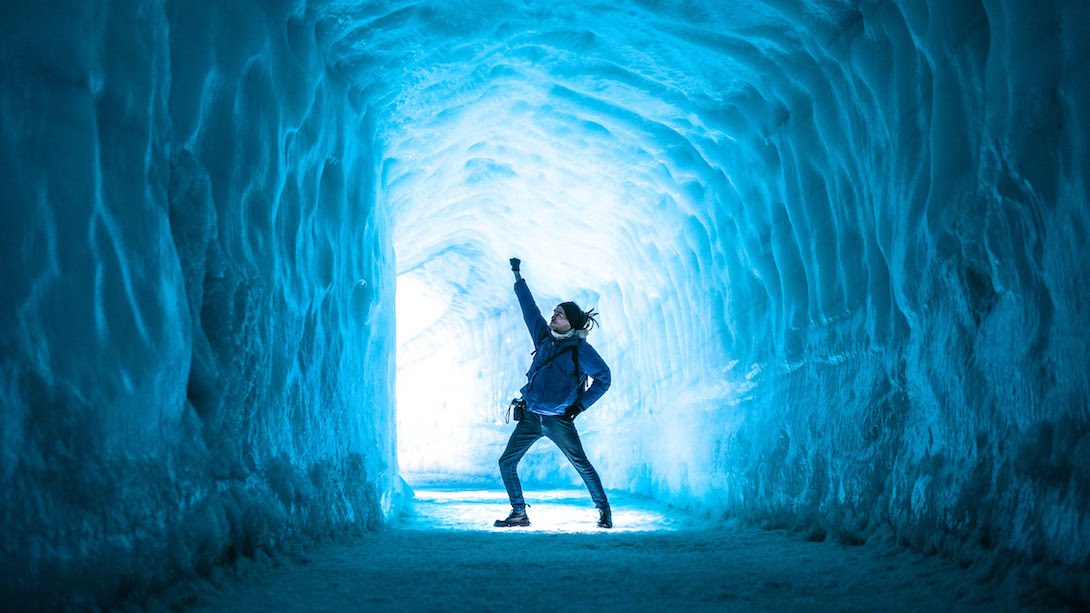 HIGHLIGHTS DAY 3:
Háafell goat farm, Grábrók, Erpsstaðir dairy farm, Heydalur thermal spring bath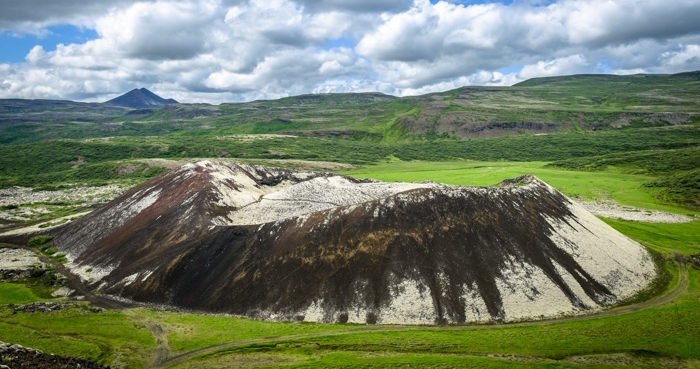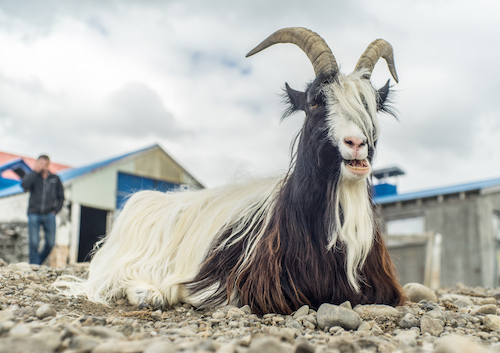 DAY 3: FARM LIFE
Today we visit two fantastic farms; the goat farm at Háafell and the dairy farm at Erpsstaðir, where we get up close and personal with the Icelandic country life. At Háafell, we will be surrounded by colorful native Icelandic goats. Not so long ago the Icelandic goats were on the verge of extinction but were actually saved by the efforts of the farmer. Here we will hear many admirable stories and sample some delicious goat products of the farm.
On our way to the second farm we have an easy walk to the top of Grábrók, a small crater (560 feet) formed by an eruption approximately three thousand years ago. From the top of the crater, the massive lava that surfaced in the eruption becomes visible as well as great part of the Borgarfjörður area.
At Erpsstaðir, we will experience a real Icelandic dairy farm, taste the traditional "skyr" and other homemade dairy products as well as visit the farmers and the farm animals.
We continue our trip to the Westfjords. At the end of the afternoon a dip in Heydalur´s thermal spring is an ideal place to relax.
We stay in a farm guesthouse in Heydalur, including dinner and breakfast.
DAY 4: REMOTE NATURE
We explore further the remote and beautiful landscapes of the Westfjords, located in the extreme northwest portion of the country and in proximity to the Arctic Circle. The area is rich with seals and birdlife and offers magnificent scenery.
In the morning we visit the Arctic Fox Center, a non-profit research and exhibition center, focusing on the arctic fox (Vulpes lagopus) - the only native terrestrial mammal in Iceland.
We arrive in Ísafjörður town around lunchtime. Ísafjörður is the principal town in northwest of Iceland with a variety of stores, cafés and restaurants. The town was established and based on the fishing industry with a lively harbor and beautiful old houses, mainly constructed in the late 18th century. In one of these renovated 18th century houses you find the Westfjord Heritage Museum that focuses mainly on the maritime history.
The afternoon is at leisure. You can choose between two optional tours:
-    Sea kayak trip in calm waters between the mountains in the beautiful surrounding of Ísafjörður. The local guide starts with giving a short lesson in paddling and safety before the group takes off paddling a wide circle inside the fjord while keeping a sharp lookout for various bird species and seals.
-     Bird watching tour to Vigur island. You arrive on the small and picturesque island of Vigur after half an hour's boat trip and are greeted by thousands of birds. Vigur is home to puffins, black guillemots, arctic terns and eider ducks with beautiful landscape expressing a sense of timelessness. The island has only 5 inhabitants; a farmer and his family, who welcomes you and tells you about the island. You can take a leisurely walk around the island, see Iceland's oldest windmill and send a postcard home from the smallest post office in Europe.
We stay in a hotel in Ísafjörður area, including breakfast. Dinner is not included. Instead you can choose from several restaurants in the town of Ísafjörður. We do recommend a lovely little fish restaurant near the harbor – but that requires pre-booking.
Optional: Sea kayak trip (2,5 h tour)
Minimum age 12 years
Price ISK 13.900
Optional: Boat Trip to a Bird Island (3 h tour)
Price ISK 11.000
Optional: Dinner in a Fish Restaurant: Seafood Buffet
Price ISK 7.500
HIGHLIGHTS DAY 4:
Arctic Fox Center, Ísafjörður, Sea Kayak or Bird Island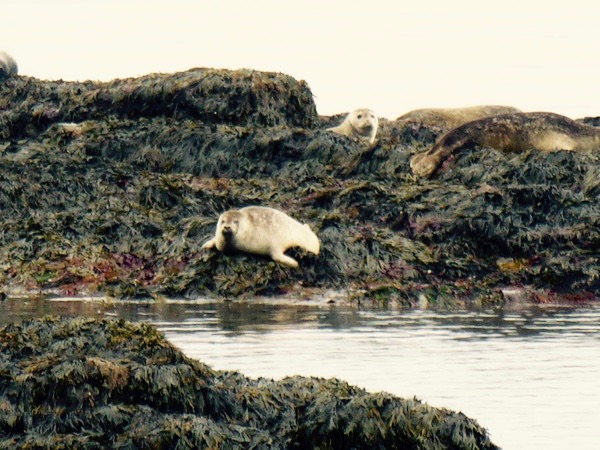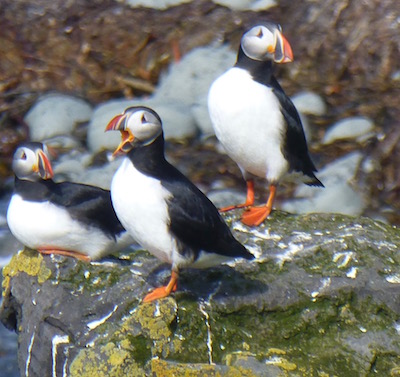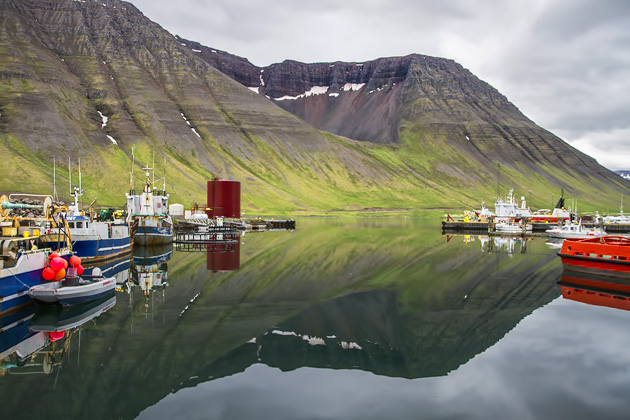 HIGHLIGHTS DAY 5:
Dynjandi, Breiðafjörður ferry, Stykkishólmur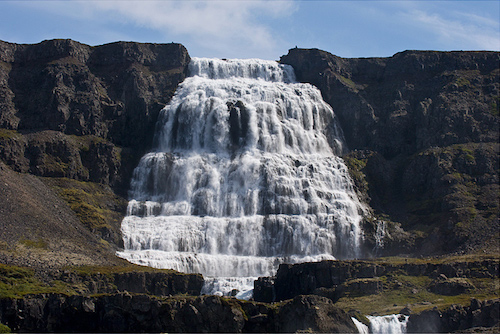 DAY 5: MOUNTAINS AND FJORDS
From Ísafjörður we take a magnificent scenic drive to the southern part of the Westfjords.  We drive through mountain passes with an overview of spectacular landscapes and stunning shorelines until at one point the breathtaking waterfall Dynjandi suddenly grabs the eye.  
A ferry takes us across Breiðafjörður Bay to the lovely town of Stykkishólmur on the Snaefellsnes Peninsula. In the afternoon we drive back to Reykjavik, where the tour ends.